Complete the form to the right to get our White Paper:
"Brand Experience Mapping
for Brand Alignment"
Once you submit your information, we will reply with an email
containing the download link for the file you requested.
Please note that we cannot respond to your request
without a valid email address.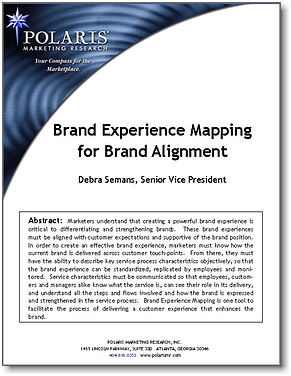 In order to create an effective brand experience, marketers must know how the current brand is delivered across customer touch-points. Service characteristics must be communicated so that employees, customers and managers alike:
-- know what the service is,
-- can see their role in its delivery, and
-- understand all the steps and flows involved and how the brand is expressed and strengthened in the service process.
Brand Experience Mapping is one tool to facilitate the process of delivering a customer experience that enhances the brand.