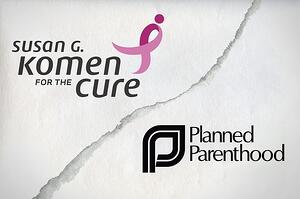 As our regular readers of The Marketing Dialog know, every month we like to devote an article to a brilliant marketing idea, more often, it's those that fail rather than succeed. Already in 2012 we've had the Nike sneaker riots and the Costa Concordia disaster – neither of which were PR successes by any stretch of the imagination – but they pale in comparison when it really hits close to home, such as when an established charity for women takes one on the chin.
The Susan G. Komen Cure is the most widely-known, largest and best-funded breast cancer organization in the U.S. Since its inception in 1982, Komen has invested nearly $2 billion for breast cancer research, education, advocacy, health services and social support programs in the U.S., as well as through partnerships in more than 50 countries with their basic message – 'early detection saves lives.' Although only about 21% of the total budget goes to research, the organization has done a world of good, but even they aren't immune to brilliantly failing.
A small 'fail' occurred in 2005 when Yoplait donated 10 cents to Komen for each lid mailed in by consumers – when postage was 37 cents! Komen has partnered with American Express, Smith and Wesson and M&M's in the past with varying results. Most critics, including Breast Cancer Action, an advocacy group, say that such promotions are financially ineffective, such as the promotion with AmEx who donated one penny per qualifying transaction, regardless of the purchase amount.
A 2010 partnership with fast food restaurant chain KFC raised criticism for promoting unhealthy eating habits, even though KFC contributed over $4.2 million to Komen, the largest single contribution in the organization's history. The M&M's promo was criticized for promoting candies that are high in sugar and fat content, with sugar being one of the leading causes of obesity. Ultimately, these promotions seem to benefit the partner more than the charity!
However, the largest criticism occurred when Komen decided to appoint Karen Handel, a very vocal anti-abortionist, as their Sr. Vice President for Public Policy, who immediately withdrew Komen's support of Planned Parenthood. Handel justified her action by invoking a little-used rule that Komen would not fund any group under federal, state or local investigation. This is despite the fact that Penn State, in the wake of the Sandusky illicit sex investigation, still received research grants from Komen, and despite the fact that Planned Parenthood's financial audits have never uncovered any wrongdoing, Planned Parenthood was the only organization to have its funding withdrawn by Komen.
As background, Planned Parenthood is the only place in dozens of communities where poor, uninsured or under-insured women can receive breast and cervical cancer screenings and some, not all, of their health centers perform abortions and provide counseling that includes information on abortion. But I'm not getting into the 'right to life' debate – this is about a PR 'fail'.
Komen knew exactly what they were getting since Handel repeatedly stated in her unsuccessful 2010 campaign for Governor of Georgia that she '…did not support the mission of Planned Parenthood' and pledged to eliminate any state funding for the group if elected. True to form, on January 31, 2012, soon after Handel was hired in 2011, Komen withdrew funding to Planned Parenthood and only that organization.
The action immediately drew sharp criticism from women's health advocacy groups which accused Komen of putting politics ahead of women's health. Komen's Director of Community Health Programs resigned in protest over the grant cut off and twenty-six U.S. Senators signed a strongly worded letter urging Komen to reverse its decision.
To spite Komen's decision, and in an impressive show of support, Planned Parenthood received more than $400,000 from 6,000 donors within 24 hours of the news breaking, followed by pledges of a $250,000 matching grant from New York Mayor Michael Bloomberg, as well as a $250,000 gift from the Bonanza Oil Co.
In a classic case of 'backpedaling', on February 3, 2012, Komen's Board of Directors issued a statement to apologize to the American public and said it would continue to support Planned Parenthood. Four days later, Handel resigned while Komen founder Nancy Brinker said that "I made some mistakes" in the case and "mishandled" the controversy. Really.
But the damage has been done to Komen, by far the largest brand in the cause marketing world. As Robert Passikoff, founder and president of Brand Keys, stated, "The whole point is you don't politicize cause marketing. Now when people think about contributing, they'll not just think about preventing breast cancer but they'll have to think about what it says about their opinion on 'choice'." With social media as immediate as it is, the furor on Facebook and other social media sites was intense, with two-thirds of the people saying negative things about Komen and that's not easily undone. Suddenly, Komen has associated breast cancer with 'choice' – probably the last thing they wanted.
For her part, Handel played the wounded party and (justifiably) declined a possible severance package. After a press conference immediately after her resignation, which she blamed on a month-long orchestrated 'shakedown' by Planned Parenthood and again, denying that her personal politics played a role in the funding decision, she has maintained a low profile. In a classic example of understatement, Handel said that "Komen doesn't have strength in the area of social media." How can the best-known cause marketing organization in the world not have any 'strength' in social media? If that's true, they'd have been better off hiring a social media director than a lightning-rod for controversy like Karen Handel.
How will Komen recover from this debacle? Some cause marketing experts say that they'll never recover the esteem they once held. Others feel that this 'fail' actually served a purpose by opening–up the dialog about women, breast cancer and reproductive health. One thing is for sure, they've made everyone's "Top Ten" list for 2012 PR fails!
What's your opinion?